What to Look For In A Great Plumber
We sincerely look forward to working with you, however, should you choose to look elsewhere for your Plumber needs, please use the following tips and advice.
<>h3>What to Look For in a Qualified Plumber
There are a number of qualifications which can set a professional plumber apart.
• State License or Certification — Many states require a license or state certification for plumbers. If you use another Plumber, call to verify that the license is current and check if there are any active complaints against the license.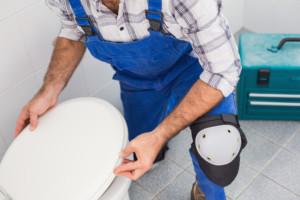 • Insurance — Be sure that the prospective plumber you are considering is fully insured, having both workers' compensation and liability insurance. Your selected plumber should be able to provide you with a copy of his or her insurance policy.
• Better Business Bureau — Contact your local Better Business Bureau to ascertain if any complaints have been filed against your potential plumber.
Questions to Ask
When you have narrowed the list, ask two or three plumbers to your home to survey the job and provide a written estimate that includes a materials list. The contract should spell out the scope of the project, any items that are excluded and the payment terms.
When obtaining a quote, one of the most important questions to ask your plumber is the type of materials to be used. Remember, a plumbing part defect has the potential to cause water damage to your home or create an indoor swimming pool in what once was your basement. Look for:
Quality Materials
Don't let your plumber install products made with inexpensive and inferior materials. Ask for quality materials, often with recognizable brand names, that offer manufacturers' warranties to the consumer. You may pay more for these parts initially, but you will be glad you did if there ever is a problem or parts need replacing.
Reliability and Proven Performance
Many homeowners who are calling in a plumber to replace a leaking copper pipe don't know there are alternative materials on the market. Why would you let a plumber repair with the same material that has already failed? Ask your potential plumbing candidates whether they use any proven superior copper alternatives, such as FlowGuard Gold CPVC pipe and fittings.
Made of durable chlorinated polyvinyl chloride, these pipe and fittings offer several benefits over copper pipe. Mainly they will never scale, corrode or pit, which will help eliminate the risk of future failures and costly re-piping. As compared to metallic systems, FlowGuard Gold CPVC systems also virtually eliminate condensation, significantly reducing the risk of costly drip damage to walls, structure and contents. From a health standpoint, the CPVC alternative offers the added benefit of maintaining water quality since there is no metal to leach into the tap water.
In addition to inquiring about quality materials, other questions to ask a potential plumber  include:
Length in business/references
Ask each plumber how long he or she has been a plumber and if you have not been personally referred, ask to speak to several people who can vouch for the quality of their work and whether they completed the work on time and within budget.
Permits
Be sure to ask the plumbing professional whether they will be responsible for obtaining all necessary permits.
Service Guarantees
Does the plumber guarantee the work? We do, and we believe all work in this field SHOULD be guaranteed. This is an important point if any problems need fixing after initial installation. More about San Antonio Plumbing Services